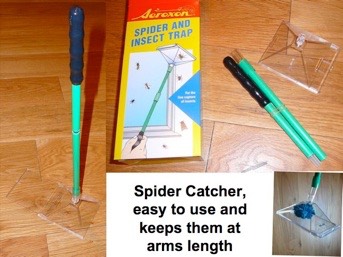 Captures spiders, wasps, bees, butterflies and other insects safely and humanely, allowing you to release them back into the wild. Simply open the trap door, place it over the insect (a handle is 23cm long, extendable to 40cm, which keeps you at arms length from the creepy crawly), then twist the trap around and the plastic door slides shut. Then go outside and release by turning the unit slowly allowing the door open and the insect can now enjoy freedom. 
Spider and Insect Trap £7.99 free postage inc VAT
It looks like a small tennis racket, but it actually stings like the bug killer it really is. We've tested it and it works. Press the button, on comes the light and it is ready to zap those flies, gnats, mosquitos, wasps and loads of other flying insects. When it connects there is a little spark and the bug drops to the floor it's brilliant. Special price whilst stocks last. THIS IS NOT A TOY
Electric Fly Swat £7.99 free postage inc VAT
A clever gadget from our friends at Rentokil that really works. Simply draw an invisible odourless and non sticky line around areas where ants congregate, ideally on the floor. It kills them on contact.
Ant Killer Pen £3.99 free postage inc VAT
Here is a great product which you can use indoors and outdoors, it is a pop up food cover. The button down design means that it packs flat for easy storage and for taking on picnics. The fabric is washable. The diameter is 280mm (11 inches) and when unbuttoned is 130mm high (5.5 inches).
Food Cover £7.99 free postage inc VAT

Special Delivery • Extra Payment Options
If you want guaranteed next working day (Tues-Fri) delivery on all items please click the drop down menu and pay £6.  You must however, place your order before 12 noon the day before you want the item. No Saturday Delivery unless you contact us first. 
If further payment is required for overseas postage costs for example £20, then it would be Option 5 and enter 2 in the quantity box on the payment page to make £20