PLEASE NOTE THAT SPECIAL OFFER ITEMS ARE NOT RETURNABLE
Flyscreen Sash Window Kits in various sizes, these are premium kits and can be made up but contact us first.
 Flyscreen Sash Window Kits in white aluminium, high quality and very strong. Grey fibreglass mesh. 
We have one Premium Window white 55 x 85 - 160cm SOLD

Sash Window Set Premium White 51 x 70 - 131cm £40.99 Just two of this size with Charcoal fibreglass material. Both have dented frames, one small dent on each see below, but very minor cosmetic damage. Call us to buy. 


 Premium Sash Screens in white. Please note that we may have these one off already assembled, ready to use, brand new and unused models in the following sizes: height and width
34.5 x 44 - 80 £40.99
30.5 x 55 - 101 £50.99
45.5 x 85 - 160 £50.99
please email us or call us to buy these, they may not be in stock.
Premium Sash Screens in white. We can make specific sizes if we have the time, for instance 28.5 x 55 - 101 (£50.99)  and 28.5 x 85 - 160cm £60.99, please email us or call us to discuss.
We have some older design screens with integrated brush top bottom and sides in the folling dimensions, We have 3 of these one is 29cm high but otherwise identical, these are £20 each inclusive of postage.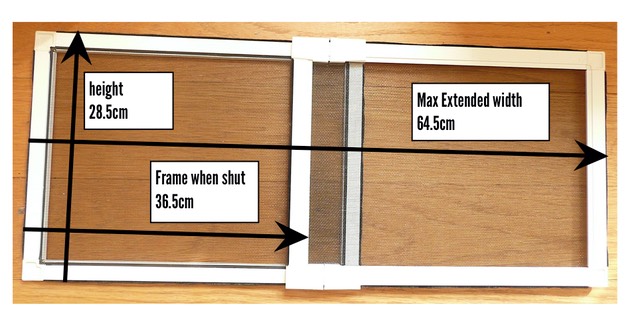 Below we have one smaller screen same as above £15, call us to buy…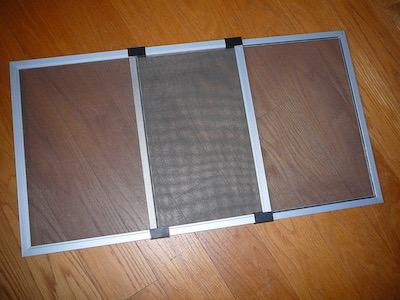 Silver Sash Screen. Brand new and a unique size. 50cm high 73cm wide extendable to 138cm. Has loads of dents on the metal but new mesh material in grey and it works. Has brush in each end, it is scruffy but works. I can count the dents. £18.99 including postage, would usually be £39.99 when we had them in stock, but wouldn't have the dents..call to buy
Buyers in Northern Ireland, Channel Islands, Isle of Wight, Scottish Highlands and Islands, there will be an extra charge. Eire will be more.  See Postcode listing on the Delivery Information Page but if in doubt and if you live in any of these areas, Europe or the Rest of the World please contact us for a delivery quote. (NOTE THAT YOU MAY BE SUBJECT TO IMPORT DUTIES IN YOUR COUNTRY).

Special Delivery • Extra Payment Options
If you want guaranteed next working day SUSPENDED (Tues-Fri) delivery on all items please click the drop down menu and pay £10.  You must however, place your order before 11am the day before you want the item.No Saturday Delivery unless you contact us first. 
ADD £10 NEXT WORKING DAY DELIVERY SUSPENDED
If further payment is required  for example £20, then Add £5 and enter 4 in the quantity box to make £20
ADD £1
ADD £3
ADD £5