Flyscreen Split Hinge
Three quality split hinges including 12 self tapping screws. Perfect for heavy duty doors, enables users to simply lift off as and when required. Plastic body with a chrome steel centre pin. 
Flyscreen Split Hinge x 3 £16.99 free postage inc VAT
Set of (3) Metal hinges £12.99 free postage inc VAT FEW LEFT IN STOCK CONTACT US TO BUY

Flyscreen Insect Screen Panels White Slight Seconds x 4 

These panels (x4) are 35cm (14 inches) wide with a 230cm (98.5 inch) Made from fibreglass with the weights already attached at the bottom, you can prise the plastic rivets out if you wanted to modify them in any way or attach your original weights. They have small marks that are difficult to see, but are not broken or damaged in any other way. Great value. 

Flyscreen Insect Screen Panels White Slight Seconds x 4 £10.99
These extra wide white panels are 100cm wide with a 250cm drop and the weights are already sewn in, with material handles on eachside of the panel.
Flyscreen Wide Screen Panels White 100 x 250cm £16.99
Flyscreen Queen Top Rail 1.0m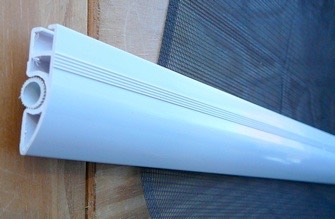 This fly screen top rail is 1.0m and 4cm wide. There is a tube shaped profile that fits in the rear of the rail and holds the material in place. Sent by Courier they take 3 to 5 working days unless you want faster delivery see below.
Fly Screen Top Rail 1.0m £9.99 free postage inc VAT
Flyscreen Queen Top Rail is 2.0m long and comes with Hook and Loop Tape and screws for alternate fixing.
Flyscreen Top Rail 2.0m £24.99 free postage inc VAT
2 Door Magnet Catch for screens (6.3 x 1.2cm) £5.99 free postage inc VAT
Hook and Loop Tape (these are adhesive) 6M of both with applicator £5.99 free postage inc VAT
Small Flyscreen Door Spring £6.99 75mm long 10mm wide. £6.99 includes screws.
Pusher for Flyscreen Spline £2.99 (picture for illustration only( free postage inc VAT)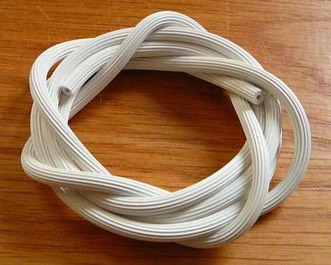 Rubber Flyscreen Spline 6mm wide. If you want to buy more than 5m contact us for a discounted price.
Spline by the metre £3.50 free postage inc VAT
Plastic Handles (6cm long) x 2 £2.99 free postage inc VAT
We also have random panels and weights as spares, projects or replacements. Call or email us to see if we have what you want.

Buyers in Northern Ireland, Channel Islands, Isle of Wight, Scottish Highlands and Islands, there will be an extra charge. Eire will be more.  See Postcode listing on the Delivery Information Page but if in doubt and if you live in any of these areas, Europe or the Rest of the World please contact us for a delivery quote. 
Special Delivery • Extra Payment Options
If you want guaranteed next working day (Tues-Fri) delivery on all items please click the drop down menu and pay £10.  You must however, place your order before 11am the day before you want the item. No Saturday Delivery unless you contact us first. 
ADD £10 NEXT WORKING DAY DELIVERY
If further payment is required  for example £20, then Add £5 and enter 4 in the quantity box to make £20
ADD £1
ADD £3
ADD £5