Make your own insect screens for windows or doors, all you need is material to replace the screens in caravans or motorhomes we can supply Fibre Glass Mesh by the metre, half metre or by the roll. This is more rigid than our usual polyester flyscreen material. It is strong easily washed down and can be fixed to frames with staples or glue. It is 1.2m wide (4 foot) 18 x 16 (18 x 16 holes per linear inch) mesh and can be supplied by the metre or by the roll (30m long) at a discount see details below, however, we cannot always guarantee that it will be a continuous length (30m roll only). (We also have limited quantities of 1.0 metre wide Charcoal material, see below) Please note that we cut in complete lengths, order 3m and you get three continuous metres. Orders up to 4m are sent folded by courier but 5m+ are sent as a roll by courier and take 3 to 5 working days. If you want faster delivery see the options below. If you want a quantity below 5m sent rolled it will cost £5 more (call us to arrange this or use the extra payment buttons).
FSQ Charcoal Material Specification is here.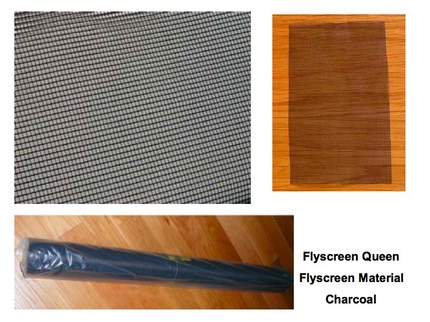 Charcoal Fly Insect Mesh Screen 1.2m wide £7.99 by the metre free postage
Charcoal Fly Insect Mesh Screen £5.99 by the metre 1.0 wide limited quantities available by metre and the roll.

Charcoal Fly Insect Mesh Screen by the half metre 0.5 x 1.2m £3.99 by the metre free postage
Buyers in Northern Ireland, Channel Islands, Isle of Wight, Scottish Highlands and Islands, there will be an extra charge. Eire will be more.  See Postcode listing on the Delivery Information Page but if in doubt and if you live in any of these areas, Europe or the Rest of the World please contact us for a delivery quote. (NOTE THAT YOU MAY BE SUBJECT TO IMPORT DUTIES IN YOUR COUNTRY).

30m Charcoal Roll of Insect Mesh Material 1.2m wide £150 saving £89.70 on the per metre price (just one roll in stock to buy now, more arriving soon, contact us if you need a larger quantity.)
Special Delivery • Extra Payment Options
If you want guaranteed next working day SUSPENDED(Tues-Fri) delivery on all items please click the drop down menu and pay £10.  You must however, place your order before 11am the day before you want the item. No Saturday Delivery unless you contact us first. 
ADD £10 NEXT WORKING DAY DELIVERY SUSPENDED
If further payment is required  for example £20, then Add £5 and enter 4 in the quantity box to make £20
ADD £1
ADD £3
ADD £5