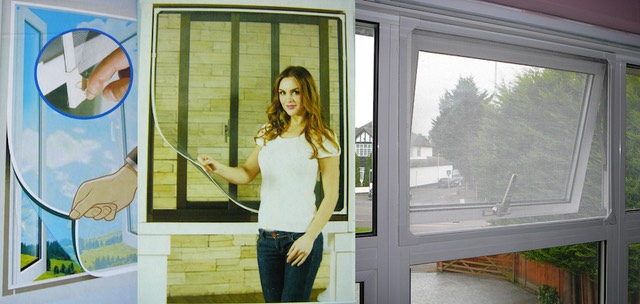 What are they? A simple magnetic window insect screen covering that completely cover the area to stop flies, spiders, mosquitoes etc.
Sizes and Colours? White in 51 x 51cm + 75 x 75cm (with off white corners), 100 x 120cm, 150 x 150 cm and 200cm x 150cm but are cut to fit smaller windows. The frame is 14mm wide and the magnet 10mm wide. If you have a very unusual size then by all means get in touch if you need advice.
Easy to Fit? Yes. Make up a plastic frame to size with supplied corners, place material over it, clip in place with magnetic lengths, cut excess flyscreen material off, peel off backing on the adhesive magnets and apply to the window frame. The frame is 14mm wide, magnet 10mm wide.
Easy to Use? Windows can be closed easily after attaching the screen, simply pull the flyscreen frame gently away from the magnet on the window frame and either open the window or pull it shut. 
What you Get: White fibreglass flyscreen material. 4 pieces of plastic frame, 4 corners, 4 pieces of magnetic strip, 4 pieces of adhesive magnetic strip. (with the largest frame you get two 1m frame, plus a joining piece and also when you are covering an area of up to 2m long and over 1.2m wide then you will get two pieces of flyscreen material which will overlap, but they will be flush and very tight, see picture below)
Suitable for? Domestic and light commercial environments.
Want to make extra windows out of one kit? Do your calculations and buy a set of off-white corners, the design may not be identical to the existing corners pictured below for £6.99. We also have extra magnetic and adhensive tape, plus 4 addition 48 cm pieces of frame for £9.99.

How are they Posted?: Buyers in Northern Ireland, Channel Islands, Isle of Wight, Scottish Highlands and Islands, there will be an extra charge. Eire will be more.  See Postcode listing on the Delivery Information Page but if in doubt and if you live in any of these areas, Europe or the Rest of the World please contact us for a delivery quote. 
White 75 x 75 cm (29.5 x 29.5 inches) £24.99 Free Postage inclusive of VAT
White 100 x 120 cm (39.5 x 47.0 inches) £30.99 Free Postage inclusive of VAT
White 150 x 150 cm (59 x 59 inches) £36.99 Free Postage inclusive of VAT
White 200 x 150 cm (78.5 x 59 inches) £45.99 Free Postage inclusive of VAT 
Set of Four Corners £6.99 (off white) Free Postage inclusive of VAT
Set of Four Pieces of frame 48 cm with magnet and self adhesive tape £9.99 Free Postage inclusive of VAT
Special Delivery • Extra Payment Options
If you want guaranteed next working day (Tues-Fri) delivery on all items please click the drop down menu and pay £10.  You must however, place your order before 11am the day before you want the item. No Saturday Delivery unless you contact us first. 
ADD £10 NEXT WORKING DAY DELIVERY
If further payment is required e.g. £20, then Add £5 and enter 4 in the quantity box to make £20
ADD £1
ADD £3
ADD £5