What are they? Here is a very easy to fit elasticated flyscreen and insect screen which fits to most Velux and Dormer style windows. Also there are Midge, Pollen and Solar Velux with very tiny holes that will stop midges and most pollen as well as that flies, spiders, mosquitoes etc, but also reflective to keep out harsh sunlight.
Sizes and Colours?  120 x 140cm in both Charcoal and White. 
Special Offers: There may be some listed at special prices, please check that section of our website
Easy to Fit? Yes. They just stretch over each corner of the window as it is elasticated. If there is nowhere to hook the screen this pack comes with four clips that can be attached to each corner of the window with the supplied self adhesive tape.
Easy to Use? Windows can be closed easily after attaching the screen, simply pull the net gently away from the hook tape and pull the window shut. 
What you Get: Elasticated Polyester material and Hook Tape. 4 x Clips 4 x Self Adhesive Pads.
Suitable for? Domestic environments, for commercial either Windows Plus, frames or roller windows.
How are they Posted?: These products are sent Royal Mail Post.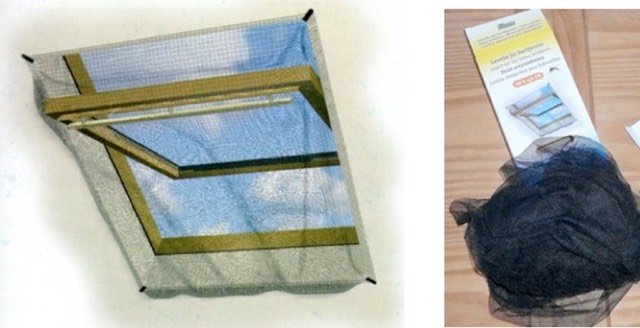 Charcoal Velux Window Screen 120 x 140  £9.99 with white hooks SOLD OUT
White Velux Window Screen 120 x 140 £11.99 free postage SOLD OUT
NEED TO COVER A BIGGER OR AWKWARD WINDOW? THEN LOOK AT THE SKYLIGHT OPTION
Fit a roller screen to your Velux…Click Here
Buyers in Northern Ireland, Channel Islands, Isle of Wight, Scottish Highlands and Islands, there will be an extra charge. Eire will be more.  See Postcode listing on the Delivery Information Page but if in doubt and if you live in any of these areas, Europe or the Rest of the World please contact us for a delivery quote. (NOTE THAT YOU MAY BE SUBJECT TO IMPORT DUTIES IN YOUR COUNTRY).

Special Delivery • Extra Payment Options
If you want guaranteed next working day SUSPENDED(Tues-Fri) delivery on all items please click the drop down menu and pay £10.  You must however, place your order before 11am the day before you want the item. No Saturday Delivery unless you contact us first. 
ADD £10 NEXT WORKING DAY DELIVERY SUSPENDED
If further payment is required for e.g. £20, then Add £5 and enter 4 in the quantity box to make £20
ADD £1
ADD £3
ADD £5