Sliding Fly Screen Door - 120 x 240cm These are maximum sizes and can be adjusted to fit a smaller sized doorway or you can use two to cover an opening of 240cm wide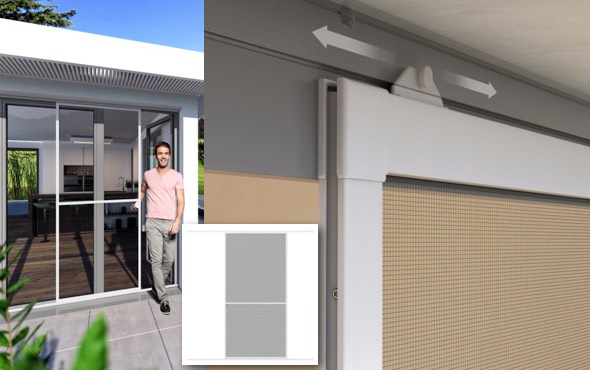 Long-lasting insect protection solution, idea for large (double) doors, for example
Innovative Perfect View fibreglass fabric for an even better view to the outside, tear-proof to ensure a long service life
Castors can be mounted into the upper guide rail – enabling smooth operation and barrier-free access
Easy assembly, two individual kits can be mounted as a double door
Required space (installation depth): 16 mm / 26 mm
Sliding Fly Screen Door 120 x 240cm £189.99 including postage JUST ONE LEFT IN STOCK

Single Sliding Fly Screen Door - 98 x 220cm These are maximum sizes and can be adjusted to fit a smaller sized doorway. 
Single Sliding Fly Screen Door is the simple solution, make sure you have the space on the side you are sliding across and that any handle would not interfere. Please send us pictures and measurements so we can advise whether the sliding door would be suitable. 
What are they? These are high quality insect screen which are aluminium frames with wheels at the bottom to aid smooth and seamless operation. Supplied as a complete DIY kit, so fitting does require a good level of competence.
Sizes and Colours? White aluminium with grey flyscreen material. A single door kit will fit a door opening from 98cm wide by 220cm high. 
Easy to Fit? This kit comes with full instructions and the only tools needed to fit is a screwdriver, hacksaw, file drill, knife, spirit level, tape measure. However a good level of DIY competence is required and some degree of patience. Overall it isn't difficult but fitting must never be rushed. The profiles are 54 mm wide and 18cm thick. We do not supply fixings for the channel as you may want to use self adhesive tape, or screws/hook and loop tape. 

Check out the Fitting Instructions and sliding door fitting suggestions here….
Easy to Use?  Very, you simply pull the door and it rolls very smoothly along the track to open or close.
What you Get: Everything you need to make up the kit. Aluminium profiles x 5, 2.3m Grey fibreglass naterial, white rubber spline, brush, handles x 2, two rubber tyred wheels, 25mm plastic channel 2m x 2.   
Suitable for? Domestic and commercial applications. 
How are they Posted?: These are sent by courier service contact us for estimated delivery times which can vary from 3 to 5 working. However it is possible to get next day or faster delivery see our Special Delivery option below. 
Sliding Fly Screen Door 98 x 220cm £110.99 including postage
Read the Instructions here.
Buyers in Northern Ireland, Channel Islands, Isle of Wight, Scottish Highlands and Islands, there will be an extra charge. Eire will be more.  See Postcode listing on the Delivery Information Page but if in doubt and if you live in any of these areas, Europe or the Rest of the World please contact us for a delivery quote. (NOTE THAT YOU MAY BE SUBJECT TO IMPORT DUTIES IN YOUR COUNTRY).
Special Delivery • Extra Payment Options
If you want guaranteed next working day (Tues-Fri) delivery on all items  SUSPENDED please click the drop down menu and pay £10.  You must however, place your order before 11am the day before you want the item. No Saturday Delivery unless you contact us first. 
ADD £10 NEXT WORKING DAY DELIVERY
If further payment is required  for example £20, then Add £5 and enter 4 in the quantity box to make £20
ADD £1

ADD £3

ADD £5