What are they? For a superior finish our Windows Plus insect screens are unique to Flyscreen Queen.
Sizes and Colours? Available in two sizes (1.2 x 1.0 and 1.2 x 2.0) and three colours White, Grey or Charcoal.
Easy to Fit? Simply stick the self adhesive hook tape around the window frame then put the material on it and cut to size. It needs to be firmly attached dragging a blunt instrument down the side of where the material and the hook tape join.
Easy to Use? Windows can be closed easily after attaching the screen, simply pull the net gently away from the hook tape and pull the window shut.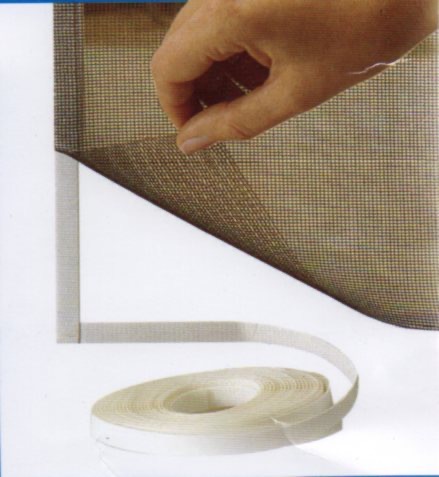 What you Get: Fibreglass material and Hook Tape. The hook tape is extra wide for a superior grip, it may not be a continuous length. The Charcoal or Grey or White material is made from fibreglass and so that it is tough yet flexible. Buy extra tape below if you want to use the material on small windows. Windows 1.0 have 5m of tape. Windows 2.0 have 7m of tape.
Suitable for? Domestic environments and also commercial also consider, frames or roller windows.
How are they Posted?: These products are sent by a tracked service.
1.2 x 1.0m (47 x 39 inches) Charcoal £9.50 free postage 
1.2 x 1.0m (47 x 39 inches) Grey £9.50 free postage
1.2 x 1.0m (47 x 39 inches) White £9.50 free postage
1.2 x 2.0m (47 x 78.5 inches) Charcoal £17.00 free postage
1.2 x 2.0m (47 x 78.5 inches) Grey £17.00 free postage
1.2 x 2.0m (47 x 78.5 inches) White £17.00 free postage
Need some extra Hook Tape? If you have fly screen material left over and need some more white tape we can supply that in 20mm width.
Hook Tape 20mm x 5m £4.99 free postage
Hook Tape 20mm x 7m £5.99 free postage
Buyers in Northern Ireland, Channel Islands, Isle of Wight, Scottish Highlands and Islands, there will be an extra charge. Eire will be more.  See Postcode listing on the Delivery Information Page but if in doubt and if you live in any of these areas, Europe or the Rest of the World please contact us for a delivery quote. (NOTE THAT YOU MAY BE SUBJECT TO IMPORT DUTIES IN YOUR COUNTRY).

Special Delivery • Extra Payment Options
If you want guaranteed next working day SUSPENDED(Tues-Fri) delivery on all items please click the drop down menu and pay £10.  YYou must however, place your order before 11am the day before you want the item. No Saturday Delivery unless you contact us first. 
ADD £10 NEXT WORKING DAY DELIVERY SUSPENDED
If further payment is required  for e.g. £20, then Add £5 and enter 4 in the quantity box to make £20
ADD £1
ADD £3
ADD £5