What are they? These are four panel or single panel insect screens which are very easy to fit and use with weights already fitted. PLEASE NOTE THAT THe CHARCOAL PANELS ARE NOW LIGHTWEIGHT DESIGN WITH THE WEIGHTS INSIDE THE MATERIAL AND 29cm WIDE
Sizes and Colours? Available in charcoal or white (Fibreglass) to a maximum size of 100 x 230, but it can easily be cut to fit. Panels are overlapped to fit any size up to of 100cm wide by 230cm high. We also have some wider doors at 120, 150, 170 and 200cm. The top rod is white.
Easy to Fit? This wider than standard fly screen door has charcoal or white panels that you lay over the white top rail which are then held in place by a dowel insert. Once you are happy with the height you can cut each panel to length. The top rail (which can be cut for width) can be screwed into place on the door frame, you can buy hook and loop tape see below.

LOOK AT THE FITTING INSTRUCTIONS and FIT TOP ROD
Easy to Use? Yes you simply walk through them and they fall back behind you.  Wider than average, easy fit, high quality door. Weights already fitted.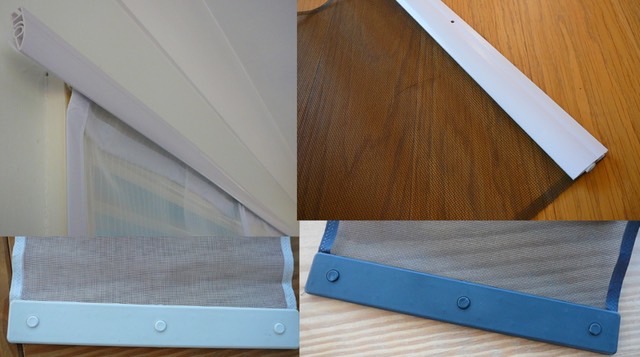 What you Get: 4 x panels of fibreglass material with weights, or one single panel + 1 x white top rail 2 x screws. Charcoal Lightweight Panels below.PLEASE NOTE THAT THe CHARCOAL PANELS ARE NOW LIGHTWEIGHT DESIGN WITH THE WEIGHTS INSIDE THE MATERIAL AND 29cm WIDE
Want to make it slide totally to the left or right? For better wheelchair access or to carry items more easily through look at our Sliding Panel Screens
Suitable for? Domestic applications. 
How are they Posted?: These are sent by courier service contact us for estimated delivery times which can vary from 3 to 5 working. However it is possible to get next day or faster delivery see top & bottom of this page.
White Fly Screen 4 panel Door 100 x 230cm £22.99 free postage
Charcoal Fly Screen 4 panel Lightweight Door 100 x 230cm £22.99 SOLD OUT free postage

SPECIAL OFFER  WHITE PANEL Split Top Rod 98 x 230cm that you can cut to fit a smaller 
We have a limited supply of white screens with a 230cm drop. There are four panels with Comes with screws and a two piece top rod which has a simple joining piece.
Special offer 98 x 230cm White Panel Screen £14.99

Buyers in Northern Ireland, Channel Islands, Isle of Wight, Scottish Highlands and Islands, there will be an extra charge. Eire will be more.  See Postcode listing on the Delivery Information Page but if in doubt and if you live in any of these areas, Europe or the Rest of the World please contact us for a delivery quote. (NOTE THAT YOU MAY BE SUBJECT TO IMPORT DUTIES IN YOUR COUNTRY).

Special Delivery • Extra Payment Options
If you want guaranteed next working day SUSPENDED(Tues-Fri) delivery on all items please click the drop down menu and pay £10.  You must however, place your order before 11am the day before you want the item. No Saturday Delivery unless you contact us first. 
ADD £10 NEXT WORKING DAY DELIVERY SUSPENDED
If further payment is required e.g. £20, then Add £5 and enter 4 in the quantity box to make £20
ADD £1
ADD £3
ADD £5