Fly Screen - Standard Chain Doors 90 x 210cm (35.5 x 82.75 inches) 
Bespoke sizes are available, up to 190cm wide and any drop, please ask us for a quote.
easily adjusted by removing or adding links to/from the bottom.
What are they? These aluminium chain link fly screen and insect screen are very easy to fit and use.
Sizes and Colours? Available in grey to fit any size up to 90cm wide by 200+cm high and a lightweight domestic screen in silver that is 90cm by 214cm high. Plus a two tone Black and Silver chain screen. You can order a deeper drop for each screen by adding £10 per 10cm. Contact us if you would like a wider screen.
Easy to Fit? These screens are tough and durable. They are fully assembled and are ready to use straight out of the box. Just screw in the hooks supplied with the screens, hang the screen rail on top and then remove any links so that it just touches the ground for a perfect fit.
Easy to Use? Yes you simply walk through them and they fall back behind you.
What you Get: • Aluminium Top rail with links already attached • hooks. 
Fix without Screws?: • Yes we have a plastic bracket and Command Strip option which will leave no marks or holes if you are fixing to a UPVC, or wooden frame, or even a flat plaster wall. Ask us for details, in most cases this costs £9.99. Buy the basic bracket and Command Strips below.
Suitable for? Domestic applications and heavy commercial environments. These are perfect for commercial applications where there is heavy daily traffic into a kitchen or industrial food preparation area. In the home if you have lots of pets who constantly go in and out these are great as hairs won't stick to them. The lightweight 90cm screen is lighter at 4kgs and better suited to a domestic environment,
How are they Posted?: These are sent by courier service and take up to 2-3 working days. If you want the item quicker then please the Special Delivery option below.
Buyers in Northern Ireland, Channel Islands, Isle of Wight, Scottish Highlands and Islands, there will be an extra charge. Eire will be more.  See Postcode listing on the Delivery Information Page but if in doubt and if you live in any of these areas, Europe or the Rest of the World please contact us for a delivery quote. 
Lightweight Bright Silver Flyscreen Chain Door 90 x 214cm with hooks £89.99 free postage inc VAT 

Lightweight Silver Grey Flyscreen Chain Door 90 x 214cm with hooks £99.99 free postage inc VAT  
Bright Silver Commercial Quality Flyscreen Chain Door 90 x 200cm with hooks £129.99 free postage inc VAT
Bright Silver Commercial Quality Flyscreen Chain Door 100 x 200cm with hooks £139.99 free postage inc VAT
Need an extra drop? Pay £10 per 10cm using the button below. So if you want a 220 drop pay £20.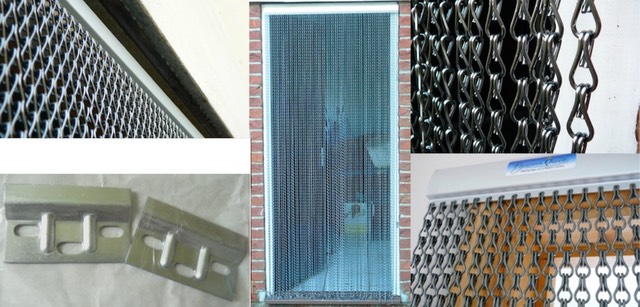 Commercial Flyscreen Door Grey Anti-Dazzle 90 x 210cm £129.99 with brackets including VAT and free postage SOLD OUT
No Screws Fixing Bracket 79cm long and 4 x Command Strips £9.99 only sold with a chain screen including VAT

Contact us if you want a specific size or type of screen we can make screens up to 200cm long.
Special Delivery • Extra Payment Options
If you want guaranteed next working day (Tues-Fri) delivery on all items please click the drop down menu  and pay £10.  You must however, place your order before 11am the day before you want the item. No Saturday Delivery unless you contact us first. 
ADD £10 NEXT WORKING DAY DELIVERY
If further payment is required  for example £20, then Add £5 and enter 4 in the quantity box to make £20
ADD £1
ADD £3
ADD £5