PLEASE NOTE THAT SPECIAL OFFER ITEMS ARE NOT RETURNABLE
Please call us to discuss anything that is not clear and for more details.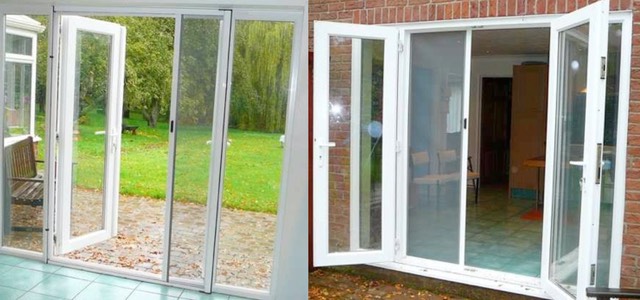 Fly Screen - Double Door Roller 160 x 225cm with some damage.The good news is that the dents are on the reverse of the cassette, Brand new and unused, works perfectly. We only have the roller now £60.
Special Offer Magnetic Screens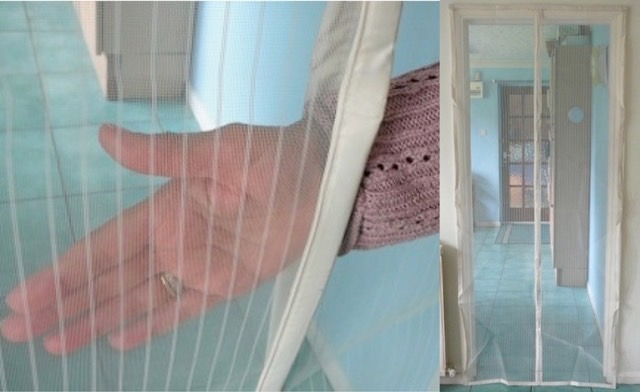 We have limited numbers of the Off White Magnetic door screens 88 x 210cm with small imperfections and marks, does not affect the curtain which is otherwise in perfect working order. Only £6.99
Flyscreen Magnetic Patio Doors with minor imperfections


We have limited quantities of these special Magnetic Patio Doors in 120 x 215, 160 x 215 and 170 x 215 sizes. They are slightly shop soiled and some have small marks on the binding, but there are no tears or other damage that affects its usefulness as a flyscreen. Supplied with hook and loop tape. If you would like a top rod of any length is £8 see button below.
120 x 215cm £12.99 free postage inc VAT
160 x 215cm £14.99 free postage inc VAT
Top Rod for the Magnetic Screens only when ordered with the above special offer screens £8.00

Special Offer Panel Screens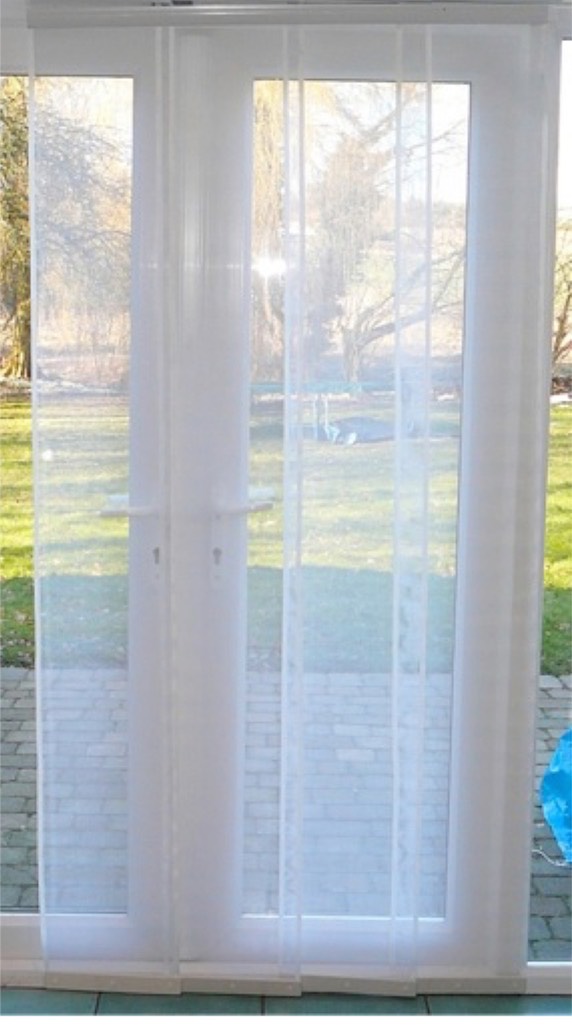 98 x 230cm & 150 x 230cm maximum size that you can cut to fit a smaller 
We have a limited supply of white screens with some small colour imperfections or marks which you may even cut off as the drop is 230cm. There are three panels. Comes with screws and a two piece top rod which has a simple joining piece.
Special offer 98 x 230cm White Panel Screen £12.99
Special offer 150 x 230cm White Panel Screen £19.99

CALL US TO BUY THESE SCREENS 01760 441423

Grey Panel Door Screen 100 x 220cm (1 available) £21.99
Grey Material, white top rod and white weights. Ex display never used.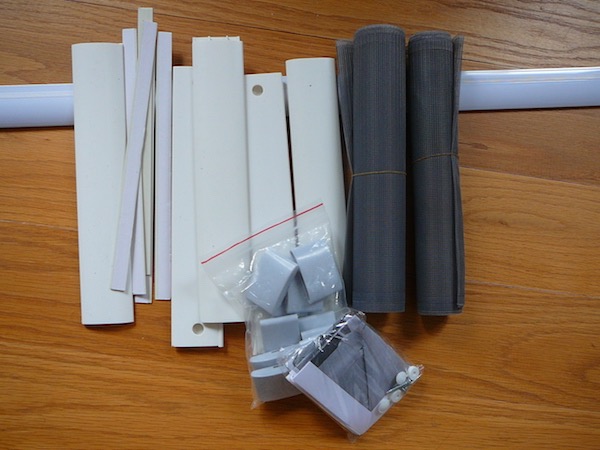 We have lot of weights and panels that might replace ones you have damaged or lost, call us to see if we have something similar.

Extendable Flyscreen Doors, just one of these ex-display panel screens
81 to 108cm x 235cm (32 - 42.5 x 92.5 inches) maximum size you adjust to fit.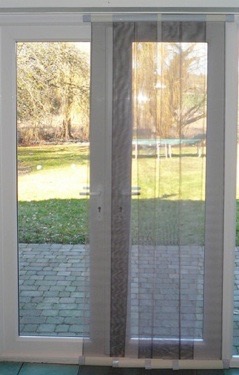 What are they? This remarkable fly screen is unique because it allows you to instantly adjust the width so that it can extended to cover double doors, or even packed in a suitcase as the top rail breaks down completely. Ideal for use on two or more doorways. High quality UPVC construction and fibreglass panels.
Sizes and Colours? Available only in charcoal and can be assembled to a maximum size of 108 x 235cm.

Easy to Fit? Yes, each section just slides together with the panels and the completed top rail attaches to brackets that have been screwed into the top of the door frame. You then cut each panel to the right drop/length and then the heavy duty weights are then attached at the bottom.

Easy to Use? Yes you simply walk through them and they fall back behind you. 

What you Get: 5 panels of grey material. 5 Weights in white. Interlocking 5 piece top profile (2 in grey/3 in white). 2 Brackets with screws.

Suitable for? Domestic and light commercial applications.  Call us to buy £24.99 on 01760 441423
Depending on the product, Buyers in Northern Ireland, Channel Islands, Isle of Wight, Scottish Highlands and Islands, there will be an extra charge. Eire will be more.  See Postcode listing on the Delivery Information Page but if in doubt and if you live in any of these areas, Europe or the Rest of the World please contact us for a delivery quote. 

Special Delivery • Extra Payment Options
If you want guaranteed next working day (Tues-Fri) delivery on all items please click the drop down menu and pay £10.  You must however, place your order before 12 noon the day before you want the item. No Saturday Delivery unless you contact us first. 
ADD £10 NEXT WORKING DAY DELIVERY
If further payment is required  for example £20, then Add £5 and enter 4 in the quantity box to make £20
ADD £1
ADD £3
ADD £5