What is it? This is a magnetic flyscreen insect screen door. Simply walk through it and the magnets immediately and silently join together to keep flies, wasps and other insects out.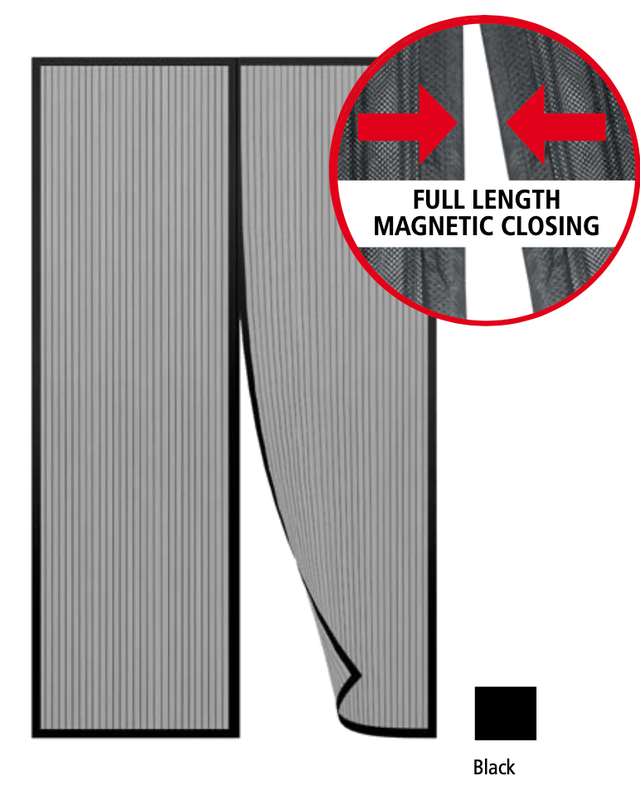 Sizes and Colours? Available in charcoal to a maximum size of 120 x 240cm. The sides can be folded and stitched to fit more snugly. 
Easy to Fit?  Simply attach the two pieces of material together by the magnets, then attach the top of the screen to the doorway and secure with the supplied self-adhesive adhesive tape on the door frames, or use the thumb tacks provided on a wooden frame. Also secure the material down each side of the frame with the tacks or the self-adhesive tape on the machined edge. If you do cut the screen it is recommended to reattach the machined edge. You might also want to consider our Top Rail below which will hold the screen even more securely.

READ THE FITTING INSTRUCTIONS
Easy to Use? Yes you simply walk through them and the magnets mean that it automatically shuts behind you.
What you Get: Two panels. Self adhesive black hook tape 1.2m approx. 12 small pieces of black hook and loop tape. Drawing Pins 20 approx. If you order with a split 2 x 60cm top rod plus two screws and a metre of black hook and loop tape..
Suitable for? Domestic applications. Brilliant with kids who have no concept of shutting any sort of door behind them. Also great for pets too who don't have to worry about handles and locks either. Great for internal doors but we would not recommend that it is fitted to external door frames unless firmly secured with battens. You might also want to consider our Top Rail (below) which will hold the screen even more securely. It is 1.0m long, 4cm wide and 1cm deep. There is a tube shaped profile that fits in the rear of the rail and holds the material in place. Supplied with screws and one metre of black hook and loop tape.
How are they Posted?: These are sent by a tracked courier service and take 3 to 5 working days. If you want next working day delivery please click on the button further down the page. 
Charcoal Magnetic Flyscreen Door 120 x 240cm including postage £24.99
Charcoal Magnetic Flyscreen Door 120 x 240cm with a 1.2m with split top rod including postage £29.99
For some larger orders buyers in Northern Ireland, Channel Islands, Isle of Wight, Scottish Highlands and Islands, there will be an extra charge. Eire will be more.  See Postcode listing on the Delivery Information Page but if in doubt and if you live in any of these areas, Europe or the Rest of the World please contact us for a delivery quote. (NOTE THAT YOU MAY BE SUBJECT TO IMPORT DUTIES IN YOUR COUNTRY).
Special Delivery • Extra Payment Options
If you want guaranteed next working day SUSPENDED(Tues-Fri) delivery on all items please click the drop down menu and pay £10.  You must however, place your order before 11am the day before you want the item. No Saturday Delivery unless you contact us first. 
ADD £10 NEXT WORKING DAY DELIVERY SUSPENDED
If further payment is required  for example £20, then Add £5 and enter 4 in the quantity box to make £20
ADD £1
ADD £3
ADD £5