Fly Screen Folding Single Door 400 x 235cm to fit doorways from 205-400cm wide and Fly Screen Folding Double Doors up to 800cm wide and up to 235cm high which can be adjusted to fit smaller doorway.

These are relatively easy to put together. 
HERE ARE THE PDF FITTING INSTRUCTIONS SUPPLIED WITH THIS SCREEN SEE ALSO THE FILMS BELOW
Do not cut the cord.
The aluminium profile end containing the material should not be pulled out and be secured shut with tape.
For Screens over 4m long join the extra profiles (top and bottom) use the supplied metal bracket and screws.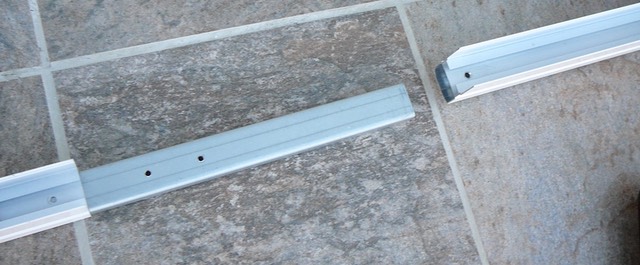 Construct the frame on a flat surface. Tap the corners into the end of the profiles (See video below).
Tension the cord by securing them at the opposite corners and hold in position with the corner cover (See video below).
Once completed lift into position, this requires at least two people.
Screw the corners into the door frame. Only then release the tape and pull the screen to the shut position.
To alter the width of the screen cut the top and bottom profiles to the required width. Always allow for the corners which measure 4cm each.
The Frame fits together very easily as you can see and the tensioning cord is secured in the opposite corner. This is a demonstration frame so is much smaller than it would be for a doorway. 
To adjust the height, as well as cutting the aluminium profiles, the folding material needs to be cut as this video shows. Again this is a small demonstration screen.
To alter the height of the screen it must first be taken apart because the mesh must be cut separately from the aluminium profile.
The height can only be reduced by 30cm at either end of the screen.
To dissasemble the screen.
Remove one corner and one wheel from each profile and carefully slide out the mesh screen.
Cut the two metal profiles 4cm less than the required height to allow for the corners.
Cut the mesh screen 3cm less than the required height
Cut the white plastic backing on the mesh screen with scissors by 0.5cm
Remove the cord and keep somewhere safe as a spare.
Re insert the mesh screen back into the profiles and reattach the corners and wheels. Please ensure that the cords are pulled taut and not caught in any way as this will stop the door from working effectively.
Special Delivery • Extra Payment Options
If you want guaranteed next working day (Tues-Fri) delivery on all items please click the drop down menu and pay £10.  You must however, place your order before 12 noon the day before you want the item. No Saturday Delivery unless you contact us first. 
ADD £10 NEXT WORKING DAY DELIVERY
If further payment is required  for example £20, then Add £5 and enter 4 in the quantity box to make £20
ADD £1
ADD £3
ADD £5