Sliding Fly Screen Door - 100 x 200cm (39.5 x 78.75 in) or cover a doorway that is 200+cm wide and over 200cm high. These are maximum sizes and can be adjusted to fit a smaller sized doorway. 
Single Sliding Fly Screen Door is the simple solution, make sure you have the space on the side you are sliding across
What are they? These are high quality insect screens which are aluminium frames which slide in plastic channel top and bottom. Supplied as a complete DIY kit, so fitting does require a good level of competence. What you have are two frames that you join together to make a door. Kit contains 8 x profiles • 8 x corners • Spline • 2 x Handles • Grey Material • Two frame joining pieces • 2M or 3M single Channel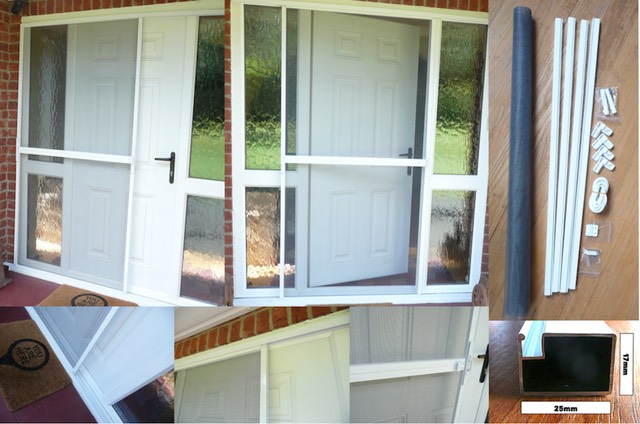 Sizes and Colours? White aluminium with grey flyscreen material. A single door kit will fit a door opening of up to 100cm wide by 200cm high. However if you have a larger size or need two doors then please get in touch and we can make suggestions.
Easy to Fit? This kit comes with full instructions and the only tools needed to fit is a screwdriver, hacksaw, file, drill, knife, spirit level, tape measure. However a good level of DIY competence is required and some degree of patience. Overall it isn't difficult but fitting must never be rushed. The profiles are 25mm wide and 17mm deep. 

Check out the Fitting Instructions 
Easy to Use?  Very, you simply pull the door along the track to open or close.
What you Get: Everything you need to make up the kit. 
Suitable for? Domestic and commercial applications. 
How are they Posted?: These are sent by courier service contact us for estimated delivery times which can vary from 3 to 5 working. However it is possible to get next day or faster delivery see our Special Delivery option below. 
Sliding Fly Screen Door 100 x 200cm £79.99 including VAT
Sliding Fly Screen Door 150 x 250cm £89.99 including VAT
Buyers in Northern Ireland, Channel Islands, Isle of Wight, Scottish Highlands and Islands, there will be an extra charge. Eire will be more.  See Postcode listing on the Delivery Information Page but if in doubt and if you live in any of these areas, Europe or the Rest of the World please contact us for a delivery quote. 

Special Delivery • Extra Payment Options
If you want guaranteed next working day (Tues-Fri) delivery on all items please click the drop down menu and pay £10.  You must however, place your order before 11am the day before you want the item. No Saturday Delivery unless you contact us first. 
ADD £10 NEXT WORKING DAY DELIVERY
If further payment is required  for example £20, then Add £5 and enter 4 in the quantity box to make £20
ADD £1
ADD £3
ADD £5